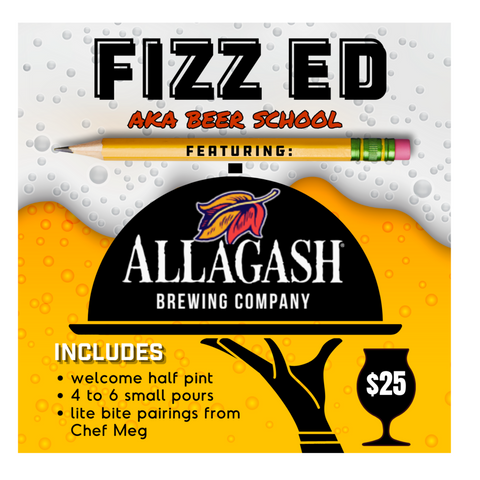 Hop City Beer & Wine
Fizz Ed - Allagash Beer & Food Pairing
Get ready to elevate your senses at our upcoming Fizz Ed event, where we'll tantalize your palate with an extraordinary beer and food pairing experience!  Join us as we showcase the exceptional brews from Allagash, a beloved favorite at Hop City, expertly complemented by delectable small bites crafted by our culinary maestro, Megan Brent, of Boxcar & Barleygarden restaurants.
We'll be featuring the awesome brews of Allagash (a Hop City fave!) along with expertly paired small bites crafted by our talented culinary director at Boxcar & Barleygarden restaurants, Megan Brent. Our last beer/bite tasting was a huge hit - DON'T MISS OUT on this one!

What's in the lineup? We'll start with a welcome draft pour of Allagash Haunted House, then prepare to indulge in a curated selection of five more beers, each thoughtfully paired with three mouthwatering small plates.  
Tuition is only $25 and only 20 seats are available. This special Fizz Ed session will sell out fast - nab tickets while you can!

Dates & Times:

Wednesday, October 11, 6:00 - 8:00 pm
Hop City Beer & Wine - West End
1000 White Street SW
Atlanta, GA
Wednesday, October 18, 6:00 - 8:00 pm
Barleygarden Kitchen Fayetteville
240 Trilith Parkway
Fayetteville, GA