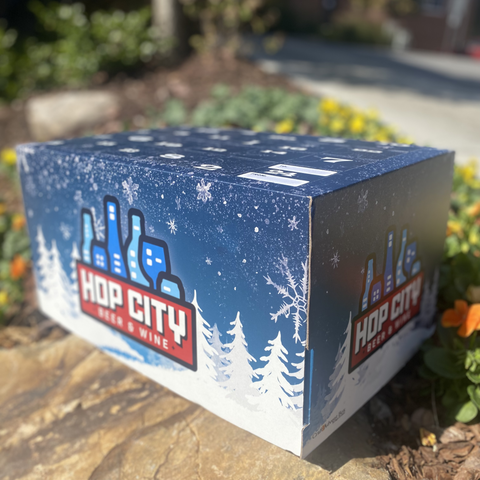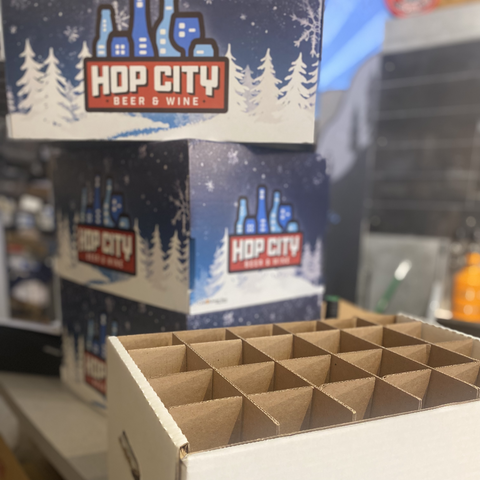 Hop City Beer & Wine
Hop City Beer Advent Calendar
Size: 24-pack, Variety: 11 - 16 fl oz
In stock at Krog District (Pickup or Delivery)
In stock at West End (Pickup only)
Give the gift of 24 days of beer! Spread some holiday cheer and gift the beer lover in your life a fun, unique, and unforgettable gift this Christmas. Of course, that beer lover can just be you if you don't feel like sharing! 
Each box contains 24 special and distinct beers curated by the expert beer nerd staff of Hop City. Punch out the perforated tab to reveal a new exciting beer each day during the holiday season. Choose from two different themes:
Local Brews Santa Will Love: 24 local favorites from Georgia breweries such as Three Taverns, Two Tides, Monday Night, Halfway Crooks, Creature Comforts, Elsewhere, Arches, Cherry Street, Wild Heaven, Orpheus, Bold Monk, Pontoon, Steady Hand, Six Bridges and others.  
Holiday Specialty Beers: Featuring a box of 24 Christmas beers from special brewers hailing from the US and abroad, like St. Bernardus, Sam Smith, Prairie, Delirium, Heavy Seas, Bell's, Left Hand, Ridgeway and others. 
*Available for delivery within the city of Atlanta and for pickup at Hop City Krog District or Hop City West End.
Details
Style, Variety
Brewery, Hop City Beer & Wine
ABV, 4.0 - 11.0%
City/ST, Multiple
Country, US & Worldwide