Frequently asked questions
What is the legal requirement to purchase alcohol?
You must be at least 21 years of age to purchase alcohol. If ordering alcohol online, a signature and valid government issued ID is required for delivery/pickup.
We offer delivery to postal codes that fully reside within the City of Atlanta (our tax district). These include:
30305, 30306, 30307, 30308, 30309, 30310, 30311, 30312, 30313, 30314, 30315, 30316, 30317, 30318, 30324, 30329, 30334, 30363, 30326
We DO NOT DELIVER to educational and college campuses, hotels, correctional facilities or storage lockers/facilities.
See our delivery map below: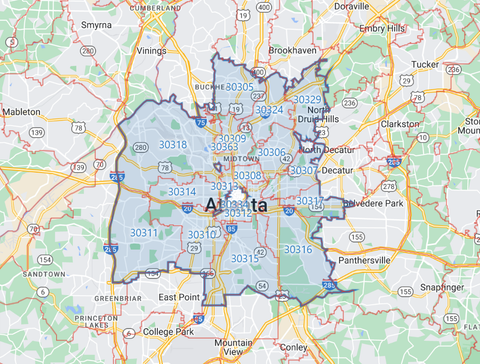 How much does delivery cost?
Delivery is $8 to addresses within 3 miles of our store (Krog) and an additional $1 for each mile thereafter. Orders over $200 are delivered for FREE. For large orders (above $500) please contact us for a delivery quote.
All deliveries are handled by our awesome delivery partner, Zifty.
Which stores offer pickup and delivery?
PICKUP: Our 2 biggest Georgia locations, Hop City Beer & Wine - Krog District and Hop City Beer & Wine - West End offer FREE pickup on all online orders.
DELIVERY: Hop City Beer & Wine - Krog District offers delivery to any zipcode that resides fully inside the city of Atlanta.
*Our Birmingham, AL location and Fayetteville, GA location do not offer online ordering at this time.
Is a signature required for delivery?
YES, a signature is required and a valid government issued ID must be shown to the delivery driver. Alcoholic beverages cannot be placed on the curbside, driveway, door stoop, porch, etc.
Do you sell product online for the Birmingham, AL location?
Not at this time. Please come visit us in store in Birmingham – it's our biggest retail space of all the Hop City locations! We have TONS of fun and exciting products and a great beer/wine bar with constantly rotating taps.
Do you offer quantity discounts on wine?
Yes! Wine purchases of 6 – 11 bottles receive a 5% discount and 12 bottles or more receive a 10% discount.
I do not see a specific product I would like to purchase, can I make a special order?
Our online product listing is a curated selection of what we actually carry in-store. We have TONS of additional and unique beer, wine, cider, mead, etc that we don't show online. Give us a call or stop in if you're looking for something specific!
Can I add items to an existing order?
Maybe. Please contact us (ideally by phone) to see how we can help.
What is your return policy?
Due to Georgia laws, all sales are final and there are no returns or exchanges allowed. If there is an issue with a product, please contact us.
What is your shipping policy?
Due to state regulations, the shipment of alcohol is prohibited in Georgia and Alabama. Merchandise and other non-alcoholic products are pickup/delivery only.