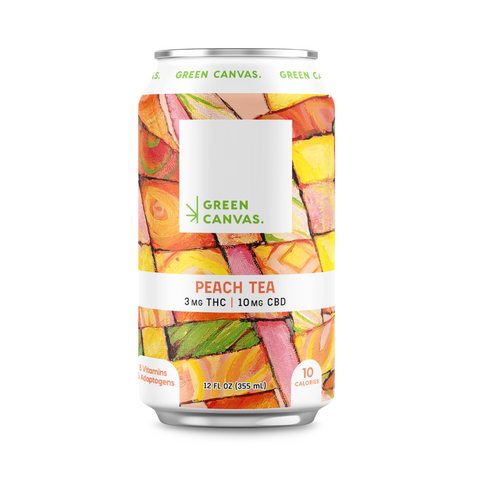 Untitled Art
Green Canvas Peach Tea
*Available for in-store purchase only
Size: 4-pack, 12 fl oz
In stock at Krog District
Dripping with juicy peach flavor and ready-made to bring warm summer vibes year-round! Green Canvas Peach Tea delivers 3 mg of full-spectrum hemp-derived Delta 9 THC and 10 mg of CBD along with a selection of B-vitamins and adaptogens for a carefully-tuned mellow chill in a great-tasting classic flavor perfect for social gatherings or relaxing anytime.

Each can contains 3mg THC and 10mg CBD.
Ingredients:  Purified Water, Cane Sugar, Full-Spectrum Hemp Extract, Citric Acid, Black Tea Extract, Peach Juice Concentrate, Sodium Citrate, Natural Flavor, Dipotassium Phosphate, Coconut Water Concentrate, Magnesium Citrate, Quercetin Dihydrate, Açaí Puree, Sucralose, Niacinamide, Milk Thistle 4:1 Extract, Panthothenic Acid, White Peach Extract, Pyridoxine HCL, Calcium citrate, Cyanocobalamin 1%
Disclaimer:
This product contains hemp-derived THC. Keep out of reach of children and animals. The effects of this product may be delayed up to two hours. Not for children, pregnant women, or women who are nursing. Do not operate a vehicle or heavy machinery while under the influence of this product. This product does not claim to diagnose, treat, cure, or prevent any disease and has not been evaluated or approved by the United States Food and Drug Administration (FDA).